7 hacks to make sure your lunch ticks all the boxes
Wellness Expert Andi Lew shows us 7 healthy hacks for lunches that are better than ever
1. Colour makes a meal.
We eat with our eyes. There's something very satisfying about a beautiful display of colourful food. The lunch you pack needs to be as varied and colour rich as a possible.
2. Eat as close to nature as possible.
Fresh, whole foods that are alive, are full of life. Try to rise 5 min earlier and prepare the lunch box in the morning instead of the night before.
3. Always pack an apple that's cut into pieces.
Kids love eating fruit that's cut. I find it always gives a better chance of them eating the whole apple. I love Modi apples as a perfect all-rounder. They are super juicy and extra crunchy and sweet and so versatile. You can also use them in baking. Grated over a bircher or just a snack for when on the go.
4. Avoid processed foods.
Food that is packaged, has been through a process and therefore stripped of its micro nutrition. It's the vitamins and minerals that help us to feel satiated / nutritionally satisfied.
If you do add a packaged item, make sure it's got no preservatives or artificial additives.
5. Swap sandwiches now and then for "baked goods".
Pre-bake a savory muffin, banana bread or try my healthy 'Modi Apple Spiced Cake with Salted Maple Caramel' for an extra treat. The recipe is super easy and inspired by my grandmother's recipe and always brings back warm memories. Extra bonus it's sugar and gluten free!
6. Get your kids to help you in the kitchen.
So that they're more excited about eating the lunch because they've had involvement in preparing it with you.
7. Try not to wrap food items in plastic or foil.
Plastic leeches into foods and creates phytoestrogens. It's also waste for the environment. Get a lunch box that's got the compartments already and keeps each item separate.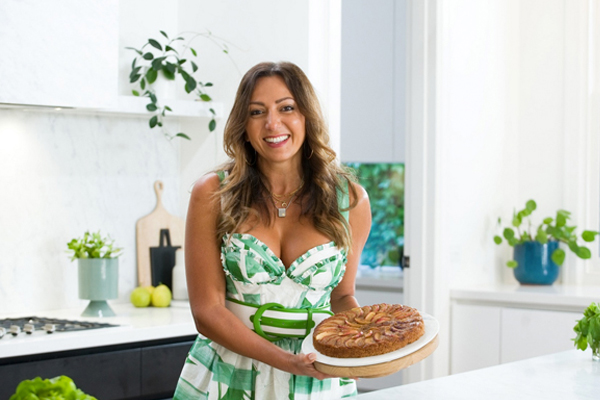 TRY: Modi Apple Spiced Cake with Salted Maple Caramel recipe
By Andi Lew (Food, lifestyle and wellness coach)
This Modi Apple Spiced Cake with salted maple caramel drizzle is like a warm Caramel Apple Pie on top of a cake. Plus it's gluten-free, now that's what we call a guilt-free pleasure.
Prep Time: 30 mins
Cook Time: 30-35 mins
Total Time: 1 hr
Serves: 8-10
Ingredients:
Modi Apple Spiced Cake:
1 2/3 cups tapioca flour
¾ cup coconut sugar, plus 1 tbsp to sprinkle
2 tsp baking powder (gluten free)
1 tsp ground ginger
½ tsp ground cinnamon
½ tsp ground nutmeg
¼ ground cardamom
½ tsp salt
1 large eggs
1/4 cup almond milk
1 1/2 tbsp melted unsalted butter, & cooled
2 tsp white vinegar
1 tsp vanilla extract
3 Modi Apples, cored & sliced thinly
Vanilla ice cream, to serve (optional)
Salted Maple Caramel:
½ cup pure maple syrup
½ cup coconut sugar
60g unsalted butter
¼ cup coconut cream (skimmed from the top of a can)
1/2 tsp sea salt
Cake:
Preheat oven to 180°C (160°C fan-forced). Grease a 23cm springform cake pan and line the base with baking paper.
In a large mixing bowl, whisk together tapioca flour, coconut sugar, baking powder, spices and salt.
In a separate bowl, whisk together egg, almond milk, melted butter, vinegar, and vanilla extract.
Pour the wet ingredients into the dry ingredients and stir until well combined.
Spoon the batter into the prepared cake pan and smooth the top with a spatula.
Arrange the Modi Apple slices on top of the batter, slightly overlapping the slices.
Sprinkle extra sugar over the top of the Modi apples.
Bake for 30-35 minutes, until a toothpick comes out almost clean.
Remove from oven and let cool for at least 10 minutes before releasing from the cake pan.
Drizzle with salted maple glaze and serve warm (or at room temperature) with a scoop of vanilla ice cream (optional).
Caramel:
In a small saucepan over low-medium heat, combine maple syrup and coconut sugar.
Cook for 3-5 minutes, stirring frequently, until the coconut sugar is dissolved.
Add the butter and cook for another 2-3 minutes, stirring frequently, until melted.
Add the coconut cream and sea salt and cook for another 5-10 minutes, stirring constantly.
Once the glaze thickens enough to coat the back of a spoon, remove from heat and transfer to a jar to finish cooling.
If you're not using the glaze right away, heat for 30 seconds before drizzling.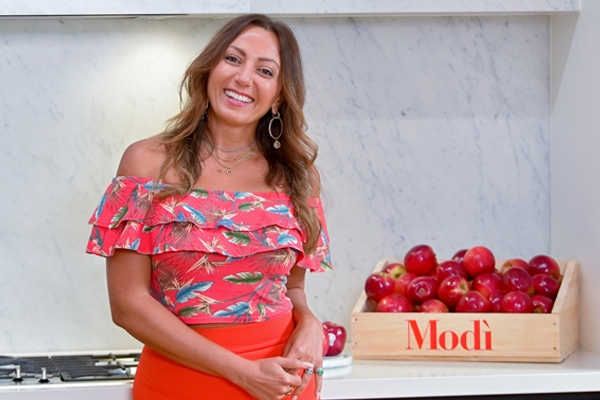 For more, visit www.modiapple.com.au